19th Sep
COVID Vaccine Autumn 2023 Booster
Slots can now be booked.
For more information see here.
28th Feb
Information regarding a change to our appointment system
Following patient feedback, we are again improving our appointment system. From 1st March 2023, routine GP appointments will be available to book one week ahead and will open in batches from 10am, throughout the day. For example, routine GP appointments for Wednesday 8th March will become available to book by patients after 10am and throughout the day on Wednesday 1st March.
This means that those patients unable to call at 8am will now have the same opportunity to book a routine GP appointment a week in advance.
If you require an urgent same day GP appointment, please continue to call at 8am. We hope in time, you will find it easier to get through.
Please be aware that although last year, we increased the number of GPs in the practice, and now have more GP appointments than ever before, it is likely that there will still not be enough appointments to fully meet demand. We recognise this, but would like to reassure you that patients are always at the centre of our decision making.
We will continue to listen to feedback regarding the appointment system and make further amendments as possible.
We also intend to introduce online booking and text reminders in the near future. Please bear with us whilst we make the required changes to allow this.
12th Jan
Medicine Order Line have introduced an online form
Our patients can now take part in a three month trial for ordering repeat medications which enables those with internet access, but who do not use the NHS Account or Patient Access, to order them 24hrs a day, 7 days a week. You can do this for yourself or on behalf of someone else, it is a simple 4 step online form.
Using this will reduce call volumes, and therefore call waiting times, helping those who can only re-order using the phone.
Please provide any feedback by emailing dmp.ppg@gmail.com.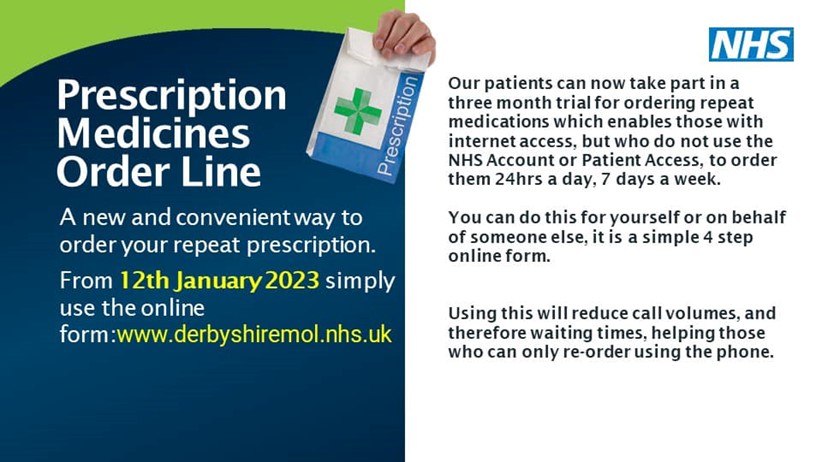 16th Dec 2022
Facebook
Our Facebook page provides the lastest news from the practice. You do not have to be a Facebook user to view the page.